Payment Bonds are the Best Guarantee for Your Supplier
Any business and especially if you are a construction business, a contractor, instead of paying directly money to the companies or to the persons who furnish labour, materials, equipment, or other suppliers, for use in the performance of the contract, you should provide them payment bonds. The payment bonds will secure for your supplier the payment of money, under certain circumstances, and, in the same time, will protect you, the contractor, in case of failure of performance from your suppliers.
The Use of Payment Bonds will Help You to Grow
Using payment bonds as an instrument, a financial product to guarantee the payment to your suppliers, to your subcontractors, will significantly improve your cash flow, and, this way, you will be able to access loans, working capital, lines of credit, from various banks and lenders, creating for you the circumstances for a strong development. 
Payment Bonds Issued in Favour of Your Lenders
If you are able to issue payment bonds in favour of your lenders, you will be able to obtain loans, lines of credit, working capital with much better terms as your lenders will not have to accept your assets, be it real estate or equipment which needs additional paperwork, appraisals, and a lot of documentation, all with additional risks and, usually accepting a value much lower than the market prices.
Payment Bonds Issued to Guarantee Your Taxes
If you have to pay custom tax, excise tax, performance guarantees, deposits of any kind, instead of using cash, you can use payment bonds, which are very well acceptable by most state authorities, local governments, central governments, customs authorities and any other places where you are supposed to pay taxes or guarantee the payment of taxes. This way, obviously, you will improve your cash flow, as you only need to guarantee that you will not forget to pay taxes, in order to move your products, equipment or other goods, for the duration those products transit or sit in certain countries or territories. The payment bonds, as you can easily appreciate, are an instrument which all highly qualified business managers use, almost everywhere where possible.
TransCapital Solutions is a leader in the international Bond Market.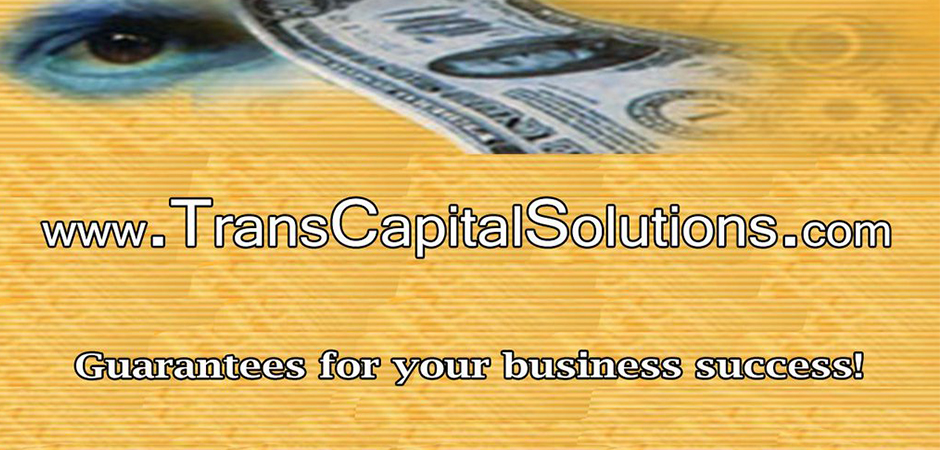 In 2019 we celebrated 35 years of solid and permanent growth.
Although we provide guarantee and bonding expertise for a large and diversified customer base, our focus is primarily to the construction, builder/developer and manufacturing industries.
Our products and services have been designed to meet the needs of a wide range of clients, including the small entrepreneur on up to the large conglomerate.
Personal Loan Guarantee
Helps private individuals obtain financing on favorable terms for investments or general business expenses.
Business Loan Guarantee
Helps new or existing businesses obtain financing on favorable terms to develop or expand.
Bid Bond
Guarantees that the bidder on a contract will enter into the contract and furnish the required payment and performance bonds.
Payment Bond
Guarantees payment from the contractor of money to persons who furnish labor, materials equipment and/or supplies for use in the performance of the contract.
Performance Bond
Guarantees that the contractor will perform the contract in accordance with its terms.
Other Bonds, include but are not limited to: License and Permit Bonds, Fiduciary Bonds, Customs and Excise Bonds.
As a small to medium-size enterprise, you may have viable business plans that need funding, and for which a loan would be appropriate. However, you may be unable to obtain a conventional loan because you do not have assets to offer as security.
The Guarantee helps to overcome this by providing lenders with a guarantee against default in certain circumstance.
Please contact us with details about the loan you intend to obtain and the value of the guarantee required by your lender.
The guarantee may cover a part of the value of your loan or the entire amount you borrow.
All of our products are distributed through a network of independent agents and brokers.
We look forward to the opportunity of servicing your bond needs.
Remember that using, as often as you can, performance bonds, construction bonds, payment bonds and guarantees for all of your business activities will protect your cash reserves, as you will not need to make deposits to suppliers, clients or authorities, and, this way, improving your cash flow, you are able to not only obtain loans, working capital, lines of credit, funding for whatever projects you have, but also you'll be able to grow much faster, to develop your business on solid grounds easier than you may expect.

If You Need Loans, Investors, If You Need To Access Venture Capital Firms, Hard Money Lenders, Private Investors, Real Estate Investors, Business Angels or Other Funding Sources, Please Feel Free to Explore InvestorsFundingUSA.com and to Select Your Financial Partner.
If you want to discuss in details about your bond needs or any kind of guarantees you need issued for your personal use or for business use including but not limited to a personal loan guarantee, a business loan guarantee, diversified bid bond guarantees, an extensive range of payment bond guarantees, performance bond guarantees covering whatever kind of performance you need, license bonds, permit bonds, fiduciary bonds, customs bonds, excise bonds, or any other kind of bonds or guarantees please send the information to Info@TransCapitalSolutions.com and if required we will fix a meeting at New York, 165 Broadway, New York City, New York, 10006.
Performance Bonds | Payment Bonds | Contact | Brokers | Careers